Area Executives Graduate with Nonprofit Management Certificate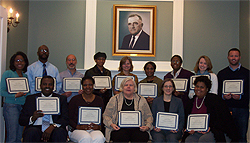 by Kim A. Kelly


Nonprofit executives recently graduated from The Nonprofit Management Program at The College of New Jersey and received Certificates in Nonprofit Management. The program focuses on management topics of critical value to executives of nonprofit organizations in managing their organizations more effectively. The 10 classes covered topics in strategic thinking, leadership, disaster preparedness, governance/board issues, legal liability issues, advocacy/political action, social entrepreneurship, working with the press, audit readiness, human resources management, marketing/grantmanship, fundraising, financial analysis, using technology, and program evaluation. The Mercadien Group and The College of New Jersey co-sponsored the eighth annual Nonprofit Management Certificate, which was also supported by educational grants from Sovereign Bank, Stark & Stark, and Mercadien.
Executives graduating from the course included: Tonya Coy (UIH Family Partners – Trenton), Philip Errico (Bonnie Brae – Liberty Corner), Elizabeth Fletcher-Aidoo (Tenacre Foundation – Princeton), John Harmon (Metropolitan Trenton African American Chamber of Commerce – Trenton), Paula Harrington (Association Business Solutions – Trenton), Ann Marie Horner (Horner Foundation – Allentown), Robert Howland (National Jr. Tennis League – Trenton), Audrey Jackson (Alzheimer's Assoc. Delaware Valley Chapter – Philadelphia), Cecily Johnson (NJ Protection & Advocacy – Trenton), Tyneisha Jones (Boys & Girls Club – Trenton), Aingyea Kellom (Trenton Downtown Association - Trenton), Ann McIntyre (The Bach Foundation – Camden), DeCarlo Moore (Boys & Girls Club – Trenton), Kathleen Reilly (Princeton Project 55 – Princeton), Shirley Thomas (Daughters of Zion - Trenton), Maria Wojciechowski (Friends of the Parks – Lincroft), and Deanna Womack (Interfaith Caregivers – Trenton).
Leading area executives and faculty and staff from The College of New Jersey are among the program's faculty of experienced practitioners who specialize in issues relevant to the nonprofit environment. Among the executives who led sessions were: Brad Brewster (Princeton Public Affairs Group), Jim Cummings (Jim Cummings and Associates), Sonia Delgado (Princeton Public Affairs Group), Ida Doolan (Times of Trenton), Lori Fabian (Fabian Consulting), Nancy Kieling (Princeton Area Community Foundation), Cary Kvitka (Stark & Stark), Herbert McMullen, III (The Mercadien Group), Sherise Ritter (The Mercadien Group), Blase Salvatore (Mercadien Technologies), Rachel Lilienthal Stark (Stark & Stark), Kevin Sullivan (American Red Cross), Warren Tranquada (Aperio), and Ann Zawartkay (The Mercadien Group).
Mercadien is pleased to offer this valuable program to our colleagues in the nonprofit community. If you would like more information about next year's program, please contact Kim Kelly at (609) 689-2336.
---
US Green Building Council – NJ Chapter
Contracts With Association Business Solutions
Trenton, NJ — The Board of Directors of the US Green Building Council –NJ Chapter has selected Trenton, NJ-based Association Business Solutions, Inc. (ABS) to headquarter and provide administrative management for the organization, effective immediately.
US Green Building Council – NJ Chapter was formed in 2002, with current membership of about 684 professionals from across the building industry. The organization is dedicated to be New Jersey's foremost coalition in the public and private sectors promoting the planning, design, construction, and operation/maintenance of buildings that are environmentally responsible, cost effective, productive, and healthy places to live, learn, and work.
In 1998, USGBC created LEED ® (Leadership in Energy and Environmental Design), a voluntary green building rating system establishing national criteria for sustainable buildings. USGBC's LEED ® Green Building Rating System ™ gives chapter members the tools needed to plan, design, construct and operate high performance green buildings that have a positive impact on environmental, human, and economic health. By using LEED®, builders can ensure an immediate and measurable impact where it really counts: dramatic energy savings, reduced greenhouse gas emissions, better indoor air quality and lower operating costs.
"We look forward to helping USGBC-NJ meet its strategic goals," ABS principal Karla Pollack said. "Our staff is dedicated to providing the members of USGBC-NJ with the same level of services they have grown to expect over the years from this organization."
As awareness of green issues has grown so has interest in focusing on accountability in building design.
"Membership in the USGBC-NJ Chapter provides an unparalleled opportunity to accelerate change and help shape the future of green building in New Jersey" said Marianne Leone, chapter coordinator of the organization. "In a few years, I expect 'Green Building' to be simply called 'Good Design'," continued Andy Topinka, USGBC-NJ Chair.
Association Business Solutions is an Association Management Company (AMC) with a staff of eight and is headquartered in Trenton, NJ. ABS currently serves nine national and regional organizations on a full-service or project basis.
ABS, Inc.
247 East Front Street, Trenton, NJ 08611
T/609-392-3800 - F/609-392-0244 - www.absnj.com
Recent surveys indicate there are over 200 significant Association Management Companies (AMCs) worldwide. These AMCs employ 5,000 association management professionals and serve over 2,000 associations. Over 100 AMC members of the AMC Institute employ nearly 2,500 association management professionals and serve over 1,000 associations with annual budgets exceeding US $364 million serving nearly 4.3 million members.
---
Association Business Solutions, Inc.
Association Business Solutions Hires Jeanne Jespersen as VP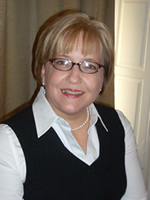 Trenton, NJ — Association Business Solutions (ABS) announced today that Jeanne Jespersen has joined the company as Vice President, effective March 3.
Jespersen comes to ABS with more than 10 years of experience in the association management profession, most recently serving as Director of Membership Development for New Jersey Business Industry Association.
In her new position at ABS, Jespersen will be responsible for business development and will oversee The Municipal Monitor TM, a local government monitoring service.
"Jeanne has the experience and the enthusiasm ABS needs in this leadership position to continue to meet our clients' expectations," said Karla Pollack, ABS co-founder. "Our clients will benefit from Jeanne's insight and creativity."
"The rising popularity of associations hiring an AMC is not surprising," continued ABS co-founder Paula Harrington. "We are seeing more and more elected leaders with limited time to run their associations turning to ABS for financial management, writing services, event sponsorship outreach, and membership development."
Prior to her work with the NJBIA, Jespersen owned and operated a profitable retail artist materials store for 20 years where she gained her foundational knowledge of effective business management and client relations.
The Association Business Solutions has a staff of eight and is headquartered in Trenton, NJ. ABS currently serves nine national and regional organizations on a full-service or project basis.
ABS, Inc.
247 East Front Street, Trenton, NJ 08611
609-392-3800 - 609-392-0244 - www.absnj.com

According to the AMC Institute, U.S. associations and nonprofits contribute approximately 10 percent to the Gross Domestic Product. And nine out of 10 adult Americans now belong to at least one association. Association Management Companies (AMCs) are for-profit businesses that provide professional management and administrative services to tax-exempt or nonprofit organizations.
The AMC industry (number of firms) has grown by 150 percent since 1986 and now encompasses more than 670 association management companies across the U.S. and beyond. In addition, AMCs collectively manage annual budgets exceeding $3.4 billion, represent more than 4,600 clients and employ 7,600 association management professionals. The average AMC-managed association budget is $677,000 with the range anywhere from $50,000 to more than $16 million annually. The AMC industry is also a conventions powerhouse, booking nearly 2 million room nights and $1 billion in meetings and conventions services annually.
Association Business Solutions (ABS) is a member of the AMC Institute (www.AMCInstitute.org)
---
National Take Your Child to Work Day at ABS
Our Director of Accounting, Heidi Gelentser, brought her two delightful nieces to the office to "intern" for the day. Tiffany Gelentser, 13, and Danielle Groff, 12, were a joy to work with and a great help.
Danielle wrote the following about her day at ABS:
I really enjoyed interning at Association Business Solutions, Inc. I helped mail new business cards to Board Members. I also helped make labels. I enjoyed being able to sit at a desk and help my Aunt Heidi who works here. My cousin Tiffany and I helped my Aunt get coffee for everyone. I got the chance to use a copy machine. I also got the chance to work and help many people do their job. I am glad I spent my day at ABS. I am also glad that I got the chance to see what being a worker at ABS would be like. That is what I have to say about my day interning at Association Business Solutions, Inc.
ABS supports career exploration and mentoring for youth. Inspiring young minds to realize their futures are filled with endless opportunities.
---
Association Business Solutions:
New Business Puts Years of Experience to Work for New Jersey Associations
For the hundreds of small, member-run professional associations in New Jersey, help is on the way.
Association Business Solutions, or ABS, incorporated in January with one goal in mind – help professional associations and other nonprofit organizations become the vibrant, dynamic and growing institutions their founders envisioned.
ABS of Princeton is run by two principals, Paula Harrington and Karla Pollack, who between them have 25 years of experience working for or with associations. Now, they are offering their services on everything from maintaining membership databases to planning a full convention or trade show from start to finish.
According to a poll by the National Federation of Independent Businesses (NFIB), nearly three of five small employers are members in at least one business organization, either personally or through their firms. New Jersey alone is home to about 1,000 professional associations, many of which have formed since 1990 to bring like-minded professionals together to talk shop, share notes and promote their special skills. Most associations have something else in common. They are losing members.
"People create professional associations with good intentions, but they don't realize the amount of work involved," says Harrington. "The day to day operation of running an association is time-consuming and expensive. To do it right, they're taking time and energy away from their own businesses or jobs, so most just do what they can. As a result, the association stagnates and members lose interest."
"Our goal at ABS is to provide associations with the support they need to thrive," adds Karla Pollack. "Paula and I have years of experience running association membership campaigns, events, meetings, and conventions. "We've already figured out the best way to get things done. And chances are, we can do it for less than it would cost an association to do the same tasks in-house."
ABS can be surprisingly cost-effective. For one, associations will only pay for the specific services they need, instead of keeping on extra staff because they need help planning the annual dinner. Additionally, associations will benefit by sharing overhead costs, office space and equipment and other expenses.
Where most marketing firms or temp agencies service for-profit businesses, ABS is set up to address the unique needs of professional associations and nonprofit organizations. Businesses are mostly interested in increasing sales and profits. But an association could be formed to promote a positive image for its industry, lobby state or local governments, or simply provide professional development opportunities to its members.
"We see each association as having its own individual personality," Harrington says. "First, we make sure we understand what makes an individual association unique. Then we work with them to accomplish their specific goals."
"Between us, we know what to do and what not to do when it comes to managing an association and planning events," Pollack says. "We have an extensive collection of best-practice models that we developed through years of experience."
Among the services that ABS provides:
administrative services, including everything from answering the phone to maintaining the membership database;

membership development, such as designing a marketing campaign or coordinating fund-raising and sponsorship solicitations;

meeting planning for trade shows, conventions or other public meetings, as well as private events such as banquets or board meetings; and

communications, including newsletters, press releases, member surveys, publications, and marketing brochures.
While headquartered in Princeton, ABS has meeting facilities in Trenton, Bridgewater, Rutherford and Mount Laurel.
---
February 2nd, 2004
Association Business Solutions, Inc. (ABS) moves into new Princeton headquarters on Independence Way!
ABS is an Association Management Company (AMC) providing management and business development services for its clients. ABS Principals, Paula Harrington and Karla Pollack, are thrilled to be joining the Route 1 corridor business community. Pollack stated " Central Jersey puts us in close proximity to the majority of our client organizations. It's a beautiful facility and we look forward to a banner 2004."
---
January 29th, 2004
The American Association of Webmasters Awards' bestows their prestigious Silver Award to the Association Business Solutions' website.
The American Association of Webmasters Awards are primarily designed to supply formal recognition to webmasters and designers who have shown outstanding achievement in web design content and creativity. The Awards Committee commends www.absnj.com for its "Excellent Design and Layout of Website, with quality content and informative information for visitors."